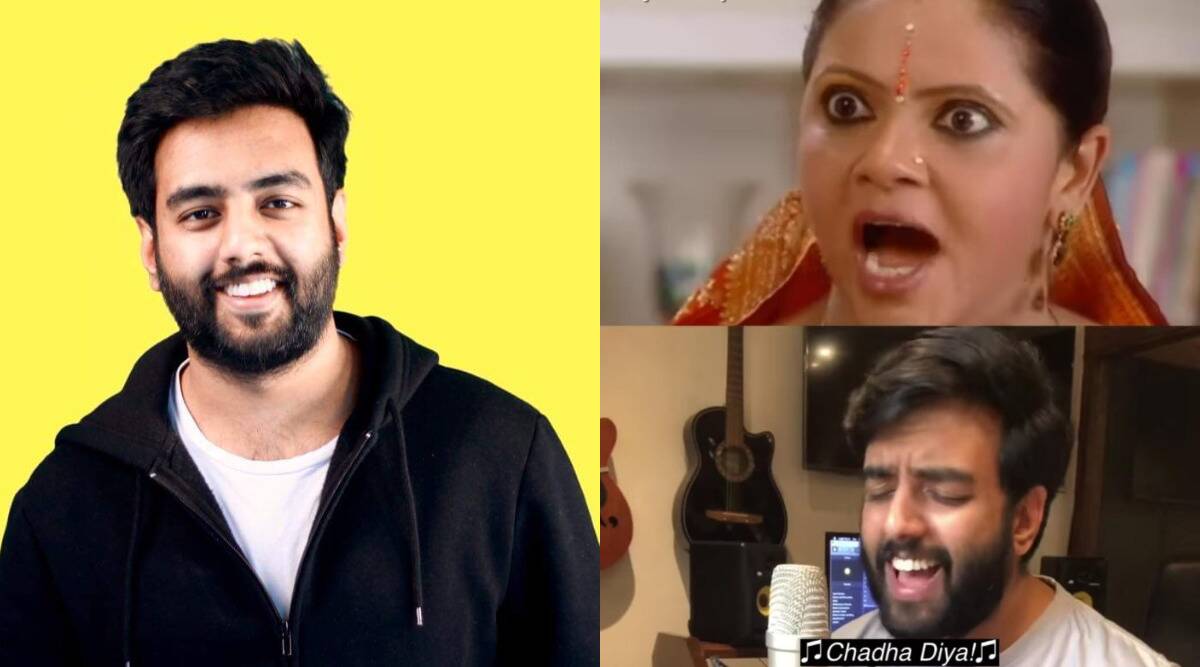 A few years back the viral scene from 'Saath Nibhaana Saathiya' of 'Gopi Bahu washing a laptop' became a huge meme on the internet. Recently, another clip of the show is going viral online and the viewers can't help laughing at it. Music creator Yashraj Mukhate recently took the stage and put a creative twist to a scene from the show, turning Kokilaben's dialogs into a catchy rap song.

In the video, we can see the music version of Kokilaben scolding her daughters-in-law Gopi Bahu and Rashi. The video is quite hilarious and crossed millions of views on all the social media within days.


First World Problems • Made Kokila Ben sing this time • I love doing harmonies, enjoyed this one a lot •
Kahi share karoge toh credits zaroor dena. Dhanyawaad!♥️♥️♥️#kokilaben #gopinahu #rashi #cooker #saathnibhanasaathiya #yashrajmukhate #ymstudios pic.twitter.com/4TcWwAcH7q

— Yashraj Mukhate (@YBMukhate) August 21, 2020
Who is the guy behind Gopi Bahu Mashup?

Yash Raj Mukhate, an Engineer turned Musician is the man behind this entertaining mashup. Based out of Aurangabad, Yahraj is an electronics & telecommunication engineer by degree. He started his music journey as a music producer and started making music covers on Youtube. One such cover made him meet Salim Merchant. With no hope of getting a response he messaged Salim, but call it luck, passion for music, or years of hardship, Yash didn't only get a reply but was also called by Salim in his studio. Salim Merchant advised Yash to learn the technical parts of the music and composing, it was then Yash got into music composition.





Along with Lakhs of people, Rupal Patel Aka Kokila Ben also said that she loves her viral meme video. In an interview with TOI, Rupal told that – "My sister-in-law sent me a message about it. Later my co-actor, Rhea Sharma sent me the rap. My immediate reaction was surprise and shock. I was perplexed about how Yashraj got this clip since I never sang on the show. Later, I realised that it's a rap and he has used my dialogues for it. I liked it so much that I asked a few friends for his number. I spoke to him and expressed my gratitude. Only prominent characters or personalities become a subject of memes or caricatures, and I am proud that Kokilaben is one of them."


The reason I will have trouble sleeping tonight:

Rashi ne cooker mein se channe nikaal ke khaali cooker gas pe aakhir kyun chadha diya?

And why did kokilaben go to take a bath again whereas she could've just simply changed the saree jispe juice gira tha?

I NEED ANSWERS.

— Harsh Mittal (@Bhand_Engineer) August 21, 2020
This one??
😅😂😂 pic.twitter.com/46JwTGnYFP

— prashant harvasani (@PHarvasani) August 24, 2020
Was humming "khaali cooker gas par chadha diya" whilst having breakfast…
the "Main thi tum thi kaun tha"…part is equally catchy….glad there are many who have that song(?).. stuck in their heads. Its time someone made a dance video of Kokilaben's mash up

— Bhavik Joshi (@Its_BhavikJoshi) August 24, 2020
Me: I need to sleep early tonight

My brain at 3am: Jab Kokilaben dobara nahaane gayi tab rasode mein koun tha?

— Sagar (@sagarcasm) August 22, 2020

Cover Image Source- indianexpress.com