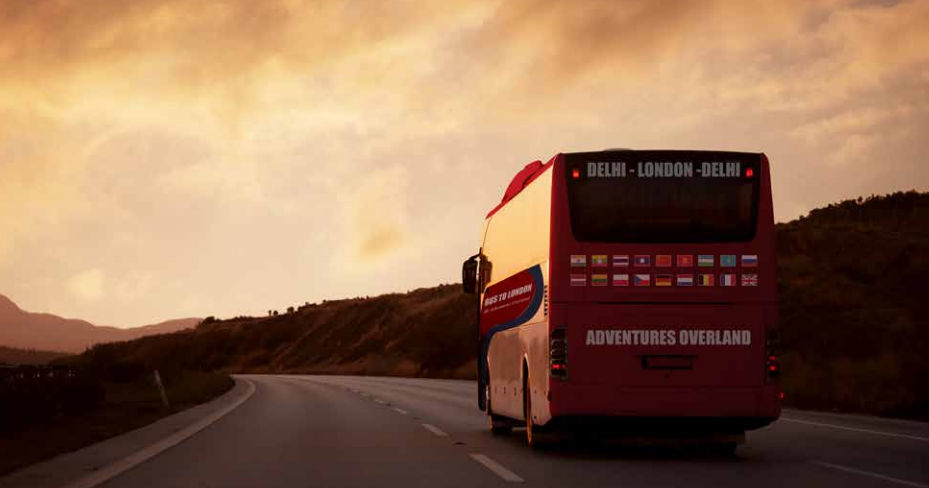 Do you love road tours or consider yourself a road trip junkie? If yes, then there is great news for you, Adventures Overland, a Gurgaon based expedition company Planned a bus ride in 2021, which will carry passengers from the Delhi to London. Amidst the pandemic, it can be great news for all the road trip lovers. Mentioned as the "first-ever hop-on / hop-off bus service" between the two destinations, Bus to London would carry 20 passengers on a revamped luxury bus, partially influenced by the Hippie Trail busses that toured the globe in the 1950s and 1960s.
In an Instagram post, the company announced that- "As India revels in the celebration of its 74th year of Independence, we at Adventures Overland are thrilled to announce the longest and the most epic bus journey in the world, '𝗕𝘂𝘀 𝘁𝗼 𝗟𝗼𝗻𝗱𝗼𝗻'. The first-ever hop-on/hop-off bus service between Delhi, India and London, United Kingdom, you will be traveling through 18 countries, covering 20,000 km in 70 days."




In this amazing Delhi to London tour, you will get a chance to explore historic European cities such as Moscow, Brussels, Frankfurt and Prague. Not only this, but you will also get to explore pagodas in Myanmar and will get to trek the Great Wall of China. Besides this, you will visit the ancient town of Tashkent, Bukhara, and Samarkand in Uzbek and explore the Caspian Sea in Kazakhstan.


This longest and the most epic bus journey in the world will have 4 Legs embracing 18 Countries:

Leg 1: India, Myanmar, Thailand (11 Nights / 12 Days)

Leg 2: China (15 Nights / 16 Days)

Leg 3: Central Asia – Kyrgyzstan, Uzbekistan, Kazakhstan, & Russia.(21 Nights / 22 Days)

Leg 4: Europe – Latvia, Lithuania, Poland, Czech Republic, Germany, Netherlands, Belgium, France, & United Kingdom. (15 Nights / 16 Days)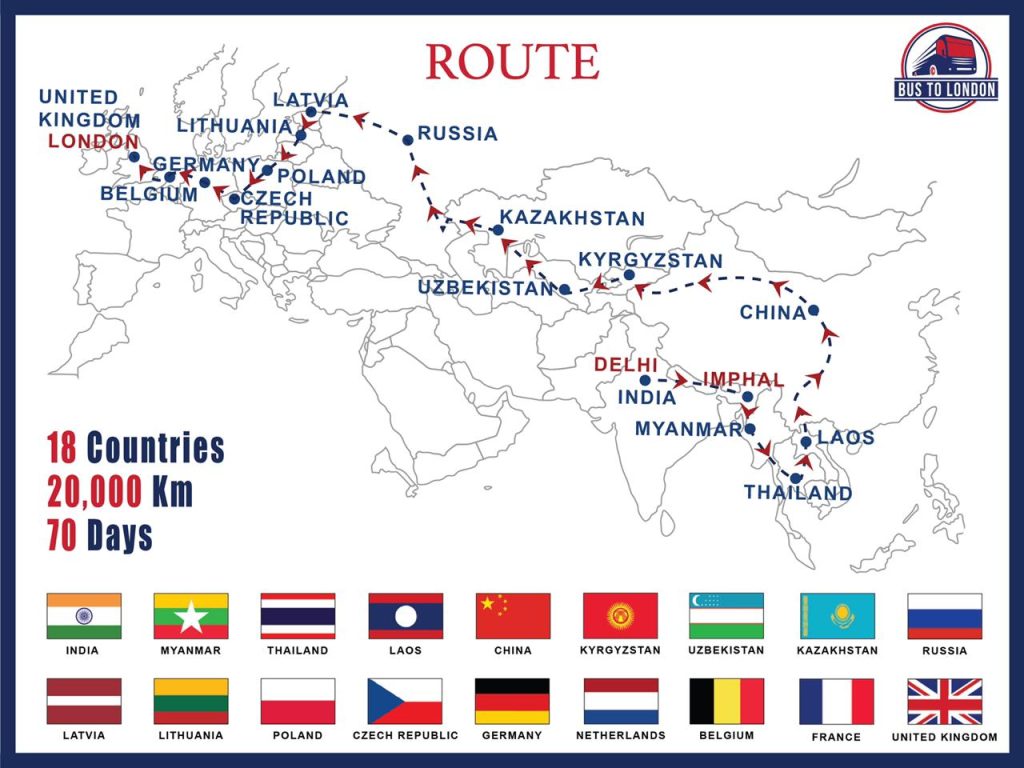 Cost of the Longest Bus Journey, Covering 18 Countries in 70 Days:
For Leg 1: Imphal, India – Bangkok, Thailand Price is INR 3,50,000 Per Person
For Leg 2: Chengdu, China – Kashgar, China Price is INR 4,25,000 Per Person
For Leg 3: Bishkek, Kyrgyzstan – Moscow, Russia Price is INR 4,95,000 Per Person
For Leg 4: Moscow, Russia – London, UK Price is INR 4,25,000 Per Person For the Full Trip, Price is INR 15 Lakh Per Person



What's included?
-All hotel stays on a twin sharing basis.
-Transportation by special luxury bus designed for comfortable long-distance travel
-Experienced team of a bus driver and helper
-A CPR certified experienced coordinator throughout the journey
-Experienced local English-speaking guide in each country
-All visas and standard tourist visa fee
-Fuel, servicing, toll taxes and parking fees
-Third-party insurance for the bus in each country
-Sightseeing and walking tours at various locations
-Entrance fee at different sightseeing points


What's excluded?

-International / Domestic flight ticket
-Meals and drinks not mentioned
-Alcoholic beverages
-Urgent tourist visa fee
-Entrance fee of sightseeing points which are not included
-Travel insurance
-Costs arising out