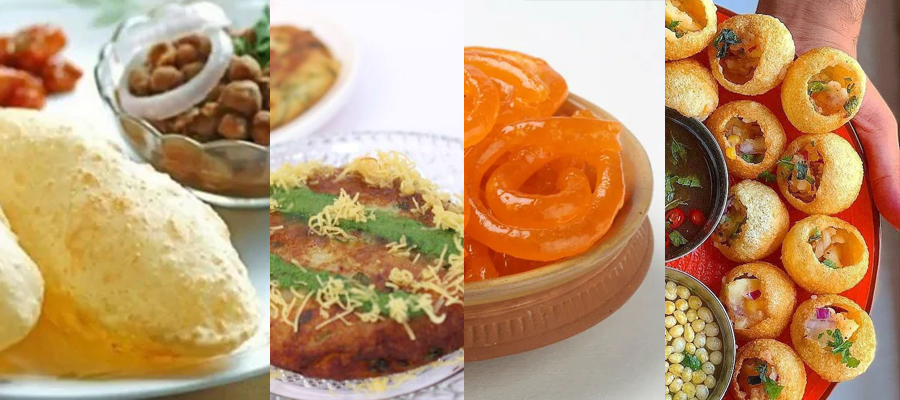 Corona Virus has put everyone confined to their home. Due to the spread, government has announced 21-day lock-down in the entire country. This will not only contain the spread but also help eradicate from the country. The number are increasing rapidly and government might extent the lock-down further. Lock-down has shut every shop and restaurants near you. Most of you, will be craving for those street foods which melts in your mouth. Street food is not a rocket science which can't be made at the comfort of your house. Since, it is not accessible now-a-days we are sharing few simple recopies which can be cooked at your home.
Chole Bhature
One of the most favourite dish for the morning breakfast. Chole Bhature can be perfect family breakfast dish to share laughter together.
Dahi Bhalle
Those curd lovers would not imagine their life without Dahi Bhalle. Dahi Bhalle can perfectly fit in your evening craving to end.
Tikki Chaat
The famous chaat, the lover of this delicious dish keep eating again and again. Sprinkled pomegranate gives a perfect taste to eat.
Gol-Gappe
Gol-gappe or 'Water balls' in English, loved by so many Indians. People when out for some shopping in the evening, likes to have few of those Gol-gappe to keep themselves going.
Jalebi
Famous India sweet dish eaten and loved by crores of people. Jalebi is special dish in the Indian culture and has so many significations. These Jalebi's are sweet in nature and fits in the slot for perfect desert dish.
Samosa
Samosa holds a special corner in Indian people. Every child loves this dish, old ages enjoys it too. One of its kind, fits in every age group. Samosa, filled with smashed potatoes having mint sauce on top.
Pizza
One of the most loved Italian dish liked by the Indians. People skip their meals just to have few slices of pizza. Comes in different varieties, pizza offers both in Veg and Non-Veg.
Pav Bhaji
Buttery delicious dish of South India. Largely eaten in Maharastra, pav bhaji has full capacity to be a main dish. Has everything you need, right from, bread to curry and to veggies. Everything on one plate.
I hope these videos will definitely help you with the recipe to make these delicious street food at your home. Tell us in the comment section which one you are trying tonight.