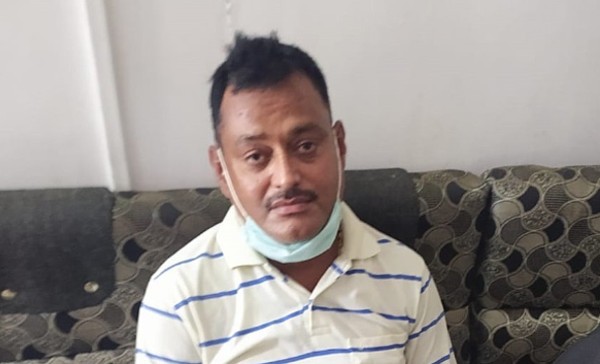 Vikas Dubey, UP's top gangster and wanted criminal in the killing of eight policemen was arrested on Thursday afternoon. After being on run for a week, he was finally nabbed in Ujjain, Madhya Pradesh. While police had already caught hold of his other partner in crime, Vikas the master of all and conducted in more than 60 cases was hiding out from the police. The case of 8 policemen's death questioned the law and order in Uttar Pradesh state and entire nation wanted Dubey behind bars.
Foresnic team conducted investigation at Bikaru village in Kanpur today, following encounter and arrest of gangster Vikas Dubey. pic.twitter.com/0fBV0RkwZo

— ANI UP (@ANINewsUP) July 9, 2020


A massive search operation was behind Dubey as special teams were deployed to get hold of top gangster Vikas Dubey. National outrage backed this entire case and Indian media showcased every update about the same. A cash bounty was also announced on the head of Vikas Dubey as police desperately wanted him to face court for the heinous crime. A surveillance team was set-up which were monitoring close to 400 mobile phones. The efforts were put in to arrest the dangerous criminal.
Vikas Dubey was going to Ujjain Mahakal temple when he was identified by security personnel. Police were informed, he confessed his identity after being pushed for it. He has been apprehended by police & interrogation is underway: Ashish Singh, Ujjain Collector #MadhyaPradesh https://t.co/tBNHn3pwuw

— ANI (@ANI) July 9, 2020
Moreover, Vikas Dubey wanted to get inside Mahakal temple where he was arrested, by using fake id of person Naveen pal.

While in the interrogation, Dubey revealed he used to fed all the police officers of Chaubepur police station and help them in every manner. Also, he revealed that, he wanted to burn all the dead bodies in order to clear out evidence. But, due to massive outrage, he could not do it then.

But destiny has other ideas. The car carrying Vikas Dubey met with an accident. Soon after, when car overturned, he came out and snatched gun from one of injured police officer in the same accident. As per the statement given to media, Police told, Vikas Dubey wanted to run away from them. Taking advantage of the accident, he tried to flee from the spot but police and STF team were quite alert of the same and surrounded him immediately. Moreover, police officers and STF team at the spot tried neutralizing him through dialogue and instructed him to surrender.
Doctors have declared him (Vikas Dubey) dead: SP Kanpur West, after gangster Vikas Dubey was brought to Kanpur's LLR Hospital following police encounter. According to police, Dubey had attempted to flee by snatching pistol of the injured policemen after car overturned. pic.twitter.com/oBfBCQHnfq

— ANI UP (@ANINewsUP) July 10, 2020
However, in search of freedom, Vikas Dubey opened firing on the officers. In reply, the STF team and police shot him thrice. Couple of bullets hit his chest while one hit his arm. He was immediately taken to near-by hospital where he was declared dead.