Let's get back to our childhood and recall those memories where we spend most of our time playing WWE trump cards. On that time we always had a dream to watch these superstars just for once in real. Now our dream is becoming real.
As WWE is growing their market in the Indian subcontinent. WWE has taken a step to make its Indian Fans happier by arranging a live match on 9th December 2017 in New Delhi India.
Indian WWE fans are eagerly waiting for the wrestling combat between 14-time World Champion and WWE COO Triple H and former Jinder Mahal.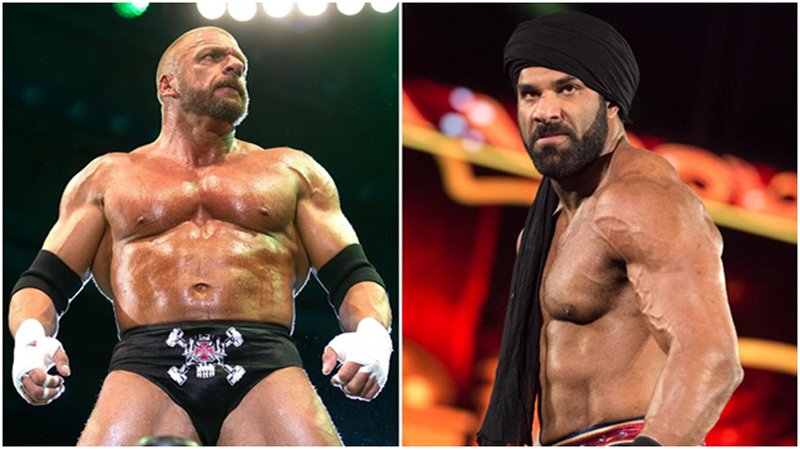 Source
All the WWE lovers are filled with excitement. Triple H is returning to ring after a long time and having a battle with our own Modern Day Maharaja Jinder Mahal. It is making this event extra special.
But before that heated fight happens, Tripple H gave an open challenge to Mahal. In this video, he is saying that he is coming to the ring to teach Jinder Mahal a lesson. Watch the video below
Triple H is talking about the future talent of WWE, he said-
"It's my job now to ensure the future. I ensure that future by making sure that our athletes are the best. I push them to the limits; I make sure that every day they learn lesson that make them better than they were the day before."
He gave a message to Jinder;
"Jinder, I have taken it upon myself than to make you better. Sometimes the best way to improve is to learn from your failures."
Then sends an open challenge;
"So, I come to New Delhi on December 9 in front of 1.3 billion of your people and I come there to teach you… I come there to teach you a lesson that only I can teach."
Only after the match it would be clear to us that who will teach the real lesson to whom.