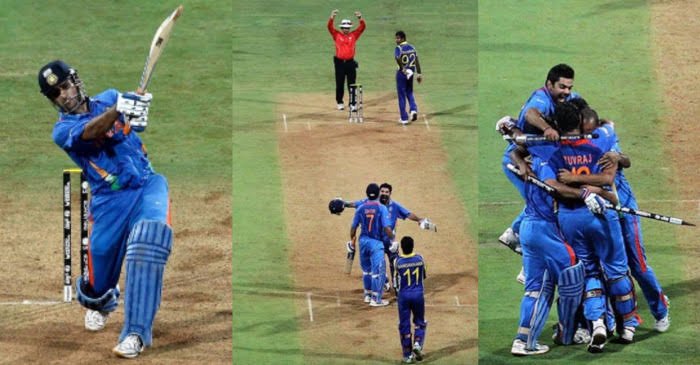 2nd April 2011, a date which is etched on memory in every Indian Cricket lover. 9 years ago, men in blue, won the ODI World Cup after 28 long years in front of energetic crowd of Wankhede. Entire India was on its feet to witness one of their beautiful moment in their lives and to see India's new identity in World Cricket. Cricket is another religion in India and it unites people from different walks of life.  Also, Sachin Tendulkar is an idol for every fan and he was playing his last world cup for India and he ever dreamt of anything in his life was winning the World Cup for India. Every Indian cricket fan wanted to see Sachin holding that golden World Cup trophy at his home ground, Wankhede as the craving was there for so long.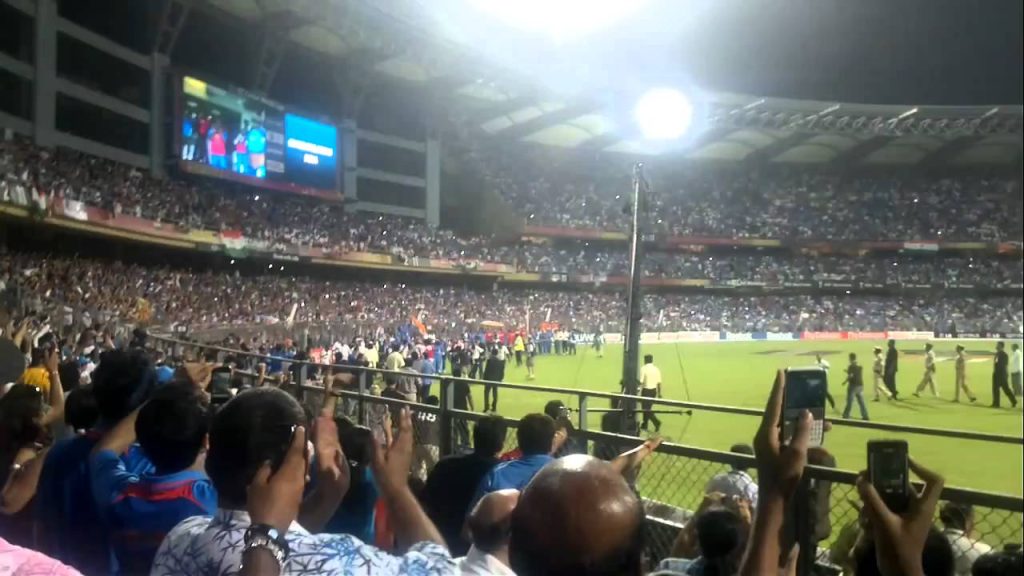 Team India were favourites to win the world cup as the tournament was going to be held in India after all. Hosting the World Cup in own country, there was undue pressure on the Indian team to lift the World Cup trophy. The wound of 2007 World Cup final defeat was still fresh in back of the mind for many fans. As the saying is, pressure breaks many but rejuvenates a few as well. This was the exact situation of every single person sitting in the Indian dressing room of 2011 World Cup. The expectation of 1.2 billion people on their shoulders can get under the skin of any player but not Mahendra Singh Dhoni.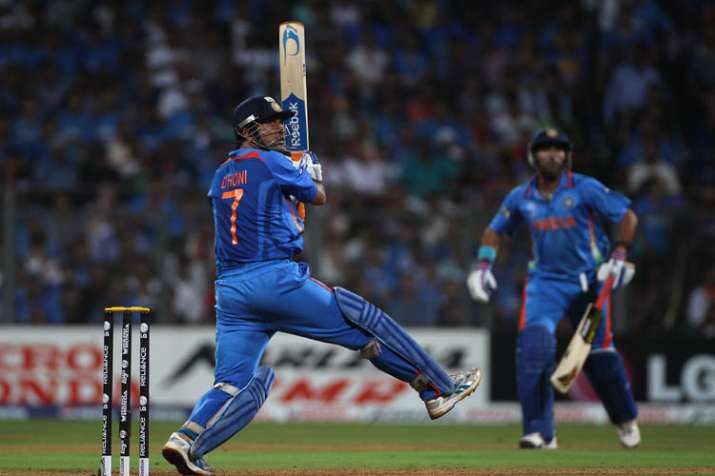 Under the leadership of Mahendra Singh Dhoni, the tournament started on good note, India was on driving seat going smoothly in the tournament. Only lost to South Africa with a thin margin in the entire tournament before the finals. The classical left-handed batmen, Yuvraj Singh, was phenomenal in the middle order as he was having dream run for his team kicking out Australia in the semi-finals with his match winning performance. A revenge team India took of the 2007 World Cup, when Australia thrashed them to claim the World Cup title in the finals.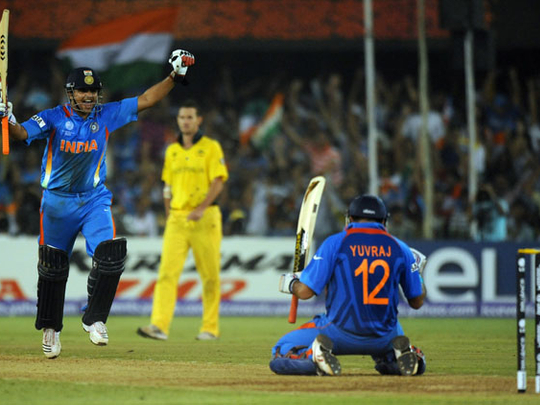 After Sachin and Sehwag's wicket early in the inning, team Indian was forced on the back-foot. Then something happened that not many would dare to do on that given situation. MS Dhoni decided to promote himself up the order to come in the middle before Yuvraj Singh, who was scoring runs throughout the tournament. But he had other plans probably he knew inside his head, he will be getting the team across the line. Though he was bit struggling to score runs before, his inning was emphatic in the final. He came, punched, powered, ran hard and helicoptered India to win second World Cup title.
After MS Dhoni hit that magical winning six over the fence, fans across the country erupted with joy. A fairy-tale ended with majestic six from the Indian captain. Whole Wankhede was eager to hug, jump, hold the Indian team. Indian Flags came out whirling above everyone's head. Team India did it once again to hold World Cup title after drought of 28 long years.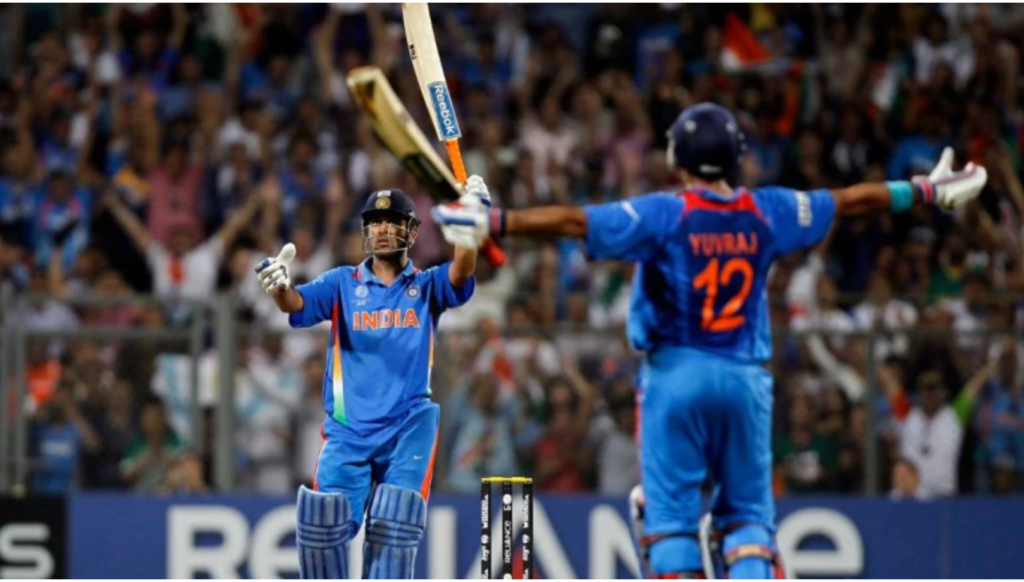 2 April 2011 – SHOW ME A BETTER MOMENT & DATE THAN THIS,#OnThisDay Billions of People Cried Out Of Happiness 😭❤
I Will Cherish This For Life 😍
Still Have Goosebumps & Tears Whenever I Watch This🔥
Proudest & Unforgettable Moment In Every Indian's Life 💖#Dhoni #WorldCup2011 pic.twitter.com/H47vEVVnJo

— Juhi 😇✨ (@Juhi_Jain_) April 2, 2020
Sachin, Yuvraj and Harbhajan was in tears to finally see one of their biggest dream getting fulfilled at last. Men in blue lifted Sachin Tendulkar on their shoulders as a tribute to dedicate the World Cup to him. That lap after the win, Sachin holding Indian flag on his shoulders is still residing into every cricket fan in India. He also called it as proudest moment in his life later in the press conference.
Ravi Shastri's commentary "Dhoni finishes off in style. A magnificent strike into the crowd! India lift the World Cup after 28 years. The Party starts in Mumbai" is still reminisced by the fans.
Ravi Shastri's iconic words will be remembered forever. #worldcup2011 pic.twitter.com/yoyKsVUCNI

— CricTracker (@Cricketracker) April 2, 2020
Blog Image Source: crickettimes.com