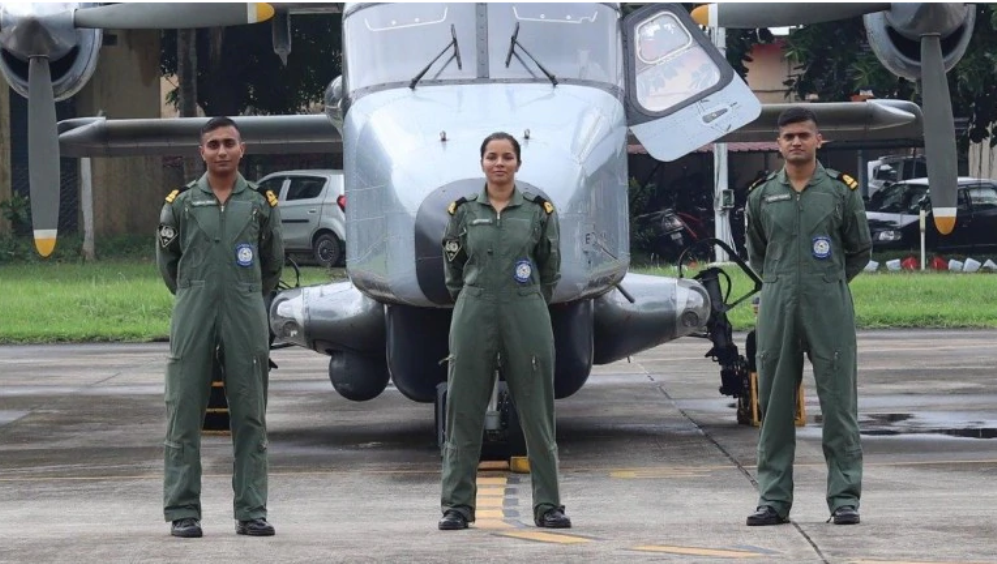 Sub-lieutenant Shivangi Swarup, a perfect example of women empowerment as she became the first women pilot for the Indian navy. She received her "golden wings" from vice admiral V.K Chawla on 2nd December.
She grew up in Muzaffarpur in the eastern Bihar state of India, said that since she was a young girl she wanted to become a pilot.
She said – " I was about 10 years old and I was in the place of my grandfather and there was a minister who came to meet people and I've seen a man flying a helicopter. It was a lot of inspiration for me. In my mind, I thought I might fly something like this one day as well".
Shivangi joined operational duties at the Kochi naval base and she will be flying the Dornier surveillance aircraft of the Indian Navy.
Check how Twitterati Congratulates to her –
The Indian Navy has welcomed its first female pilot, in another significant milestone for women in the country's armed forces. https://t.co/xBH1xFh1NJ

— CNN International (@cnni) December 3, 2019
"There is nothing we as women cannot accomplish"

Congratulations to #Shivangi on being the first women naval pilot. You are an inspiration to millions. #WomenInDefence#16DaysOfActivism #orangetheworld #Bihar@indiannavy @MinistryWCD @DefenceMinIndia @rajnathsingh pic.twitter.com/NjiEG66oK8

— Naina Jha (@27nainajha) December 3, 2019
'People were very supportive, I never felt like I am the only lady here, so that was because of my squadron and my instructors and all the people here.'https://t.co/3xcr0DWj9Y
Via @CNN

— Women in the World (@WomenintheWorld) December 3, 2019
Congratulations to sub lieutenant #Shivangi on becoming the first women pilot for the @indiannavy.

You are an inspiration to millions of young Indian women who dare to dream. You have made us all proud.

Keep flying high.#WomenInDefence @NitishKumar @MinistryWCD pic.twitter.com/GmRqgZoWaD

— Sanjay Kumar Jha (@SanjayJhaBihar) December 3, 2019
Congratulations to the first woman naval aviator (pilot).
Hope navy starts posting women officers on ships for sea duties as most modern navies do.
Navy is a seagoing service and women should not be deprived of the opportunity to serve at sea due to archaic mindsets of Admirals. https://t.co/rfJlFlsXHa

— Commander Vikram W Karve (@w_karve) December 3, 2019
Lt Shivangi is the first .

On Dec 21st two other Woman Naval Pilot will pass out & join duty.

Let's hope this moment leads to women on Warships and Submarines someday. @indiannavy @CNNnews18 pic.twitter.com/hGoFRuNpH9

— Shreya Dhoundial (@shreyadhoundial) December 2, 2019
Source – CNN News, ANI