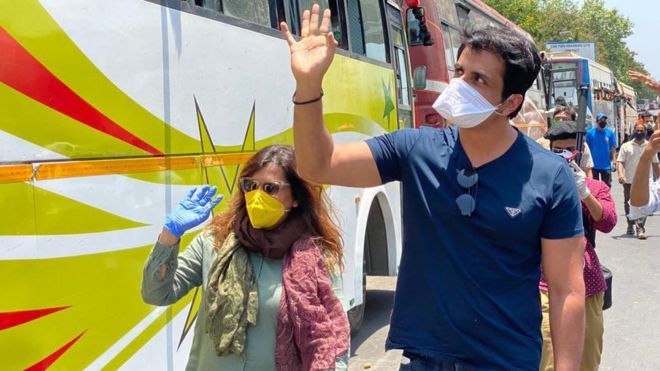 Is there anything Sonu Sood can't do? We bet not contemplating after helping migrant workers reach home safely during the COVID-19 shutdown, he now plans to get them jobs too. In order to facilitate this process, Sood has launched an app called 'Pravasi Rojgar,' which will support workers in finding the right job opportunities across the country.
#SonuSood #sonusoodthehero #Startuppatrika #PravasiRojgar pic.twitter.com/pxFfKWId4H

— Startup Patrika (@startuppatrika) July 23, 2020


The idea for this app was always on Sonu Sood's mind as he recalls that while sending migrants back home, he would interact with them and their conversations always focused on how they were looking for right work opportunities during and after the pandemic.

"Lot of thinking, planning, and preparation have gone into designing this initiative over the last few months. Extensive consultations have been held with top organizations that are involved at the grassroots level in skilling and placing the youth below the poverty line, NGOs, philanthropic organizations, government functionaries, strategy consultants, technology startups to provide migrants with job opportunities," Sood said in a statement.

According to the press release, the app lists over 500 reputed companies ranging from construction, healthcare, engineering, BPOs, security, automobile, e-commerce, and logistics, offering job opportunities to migrants.
SONU SOOD LAUNCHES PRAVASI ROJGAR YOJANA TO HELP MIGRANTS FIND JOB OPPURTUNITIES

MEANWHILE POLITICIANS :- BAS KAR YAAR KYU HAME AUR ZALEEL KARWA RAHE HO#SonuSoodRealHero pic.twitter.com/mdDRwRJ693

— TUSHAR SANGHVI (@SANGHVITUSHAR) July 23, 2020


Not just job opportunities, the app 'Pravasi Rojgar' will also provide migrants with job training programs like learning to speak in English.