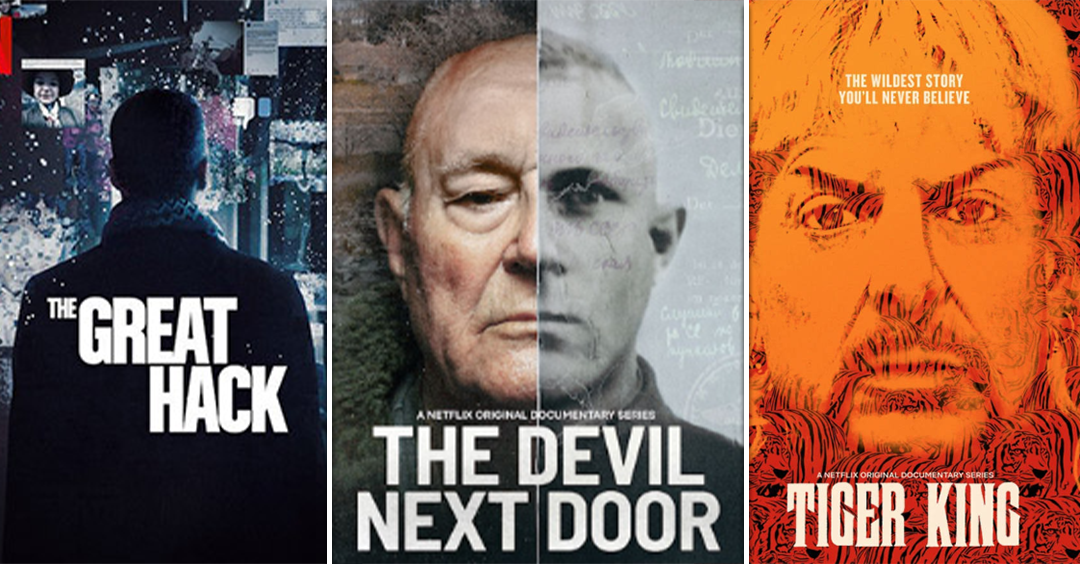 Bored during quarantine? But we have no option left rather than staying at home.
It is becoming difficult for many of us to spend quarantine time. Although it's no longer a choice for most to venture out to combat the boredom, remaining indoors and binge-watching Netflix shows and movies is a safer alternative.
But if you already get bored by watching the same old series and movies.
Here's a list of some best documentaries on Netflix streaming right now.
So, sit down, grab your devices, some snacks, and tune in –

FYRE: THE GREATEST PARTY THAT NEVER HAPPENED

IMDb Rating – 7.2/10
Duration – 1 hr 37 min




Fyre: The Greatest Party That Never Happened is an American documentary film about Billy McFarland and the 2017 Fyre Festival which collapsed in 2019. Chris Smith directed it, and it was released on Netflix on January 18, 2019.
In April 2019, Netflix reported that 20 million households had watched the film during its first month of release.


THE GREAT HACK

IMDb Rating – 7/10
Duration – 2 hr 19 min



The Great Hack is a 2019 documentary film about the data crisis of Facebook – Cambridge Analytica created and directed by Jehane Noujaim and Karim Amer, both past winners of the Academy Award documentary (The Square, Control Room, Startup.com).
The music of the film was written by EMMY winning film composer Gil Talmi. The Great Hack premiered at the 2019 Sundance Film Festival in the Documentary Premieres section and was released by Netflix on July 24, 2019.


WILD WILD COUNTRY

IMDb Rating – 8.2/10
Duration – 1 Season, 6 Episodes



Wild Wild Country is a Netflix documentary series about the controversial Indian guru Bhagwan Shree Rajneesh (Osho), his one-time personal assistant Ma Anand Sheela, and their group of followers in the village of Rajneeshpuram in Wasco County, Oregon.
It was released on Netflix on March 16, 2018, after the Sundance Film Festival premiere.



CONVERSATION WITH A KILLER – THE TED BUNNY TAPES

IMDb Rating – 7.8/10
Duration – 1 Season, 4 Episodes


Talks with a Killer: The Ted Bundy Tapes is an American documentary which was premiered on Netflix on January 24, 2019, the 30th anniversary of the execution of Bundy. The four 60-minute episodes, produced and directed by Joe Berlinger, were drawn from more than 100 hours of interviews and archival footage of serial killer Ted Bundy, as well as interviews with his relatives, associates, surviving victims, and the law enforcement members who worked on his case.


SEX EXPLAINED

IMDb Rating – 6.9/10
Duration – 1 Season, 5 Episodes



Sex, Explained is a limited series of American documentaries created by Vox. The show is a spin-off of the television series Explained, along with The Mind. The series is hosted by Janelle Monáe and premiered on Netflix on January 2, 2020. Episodes of the show explore various subjects around the subject of sex, trying to clarify complexities and patterns.


THE DEVIL NEXT DOOR


IMDb Rating – 7.6/10
Duration – 1 Season, 5 Episodes


The Devil Next Door is a series of films about John Demjanjuk, an alleged Nazi death camp guard known as "Ivan the Terrible," who lived in Cleveland for years. In 2019, the series debuted on Netflix.


INSIDE BILL's BRAIN: DECODING BILL GATES

IMDb Rating – 8/10
Duration – 1 Season, 3 Episodes


Inside Bill's Brain: Decoding Bill Gates is a 2019 tripartite online television documentary series produced and directed by Davis Guggenheim. The premise of the series examines the minds and motives of Bill Gates, Microsoft's former CEO and founder of the Bill and Melinda Gates Foundation along with his father.


TIGER KING: MURDER, MAYHEM, AND MADNESS

IMDb Rating – 7.7/10
Duration – 1 Season, 3 Episodes


Tiger King: Murder, Mayhem, and Madness is an American crime drama miniseries about the life of zookeeper Joe Exotic in 2020. It was released on Netflix on March 20, 2020.
The show focuses on the tiny but highly intertwined culture of large cat conservationists like Big Cat Rescue owner Carole Baskin and owners like Exotic, whom Baskin suspects of abusing and abusing wildlife. On 12 April 2020, a special hosted by Joel McHale was released, with McHale interviewing many of the stars about Exotic and the series itself.


DIRTY MONEY

IMDb Rating – 8.1/10
Duration – 2 Season, 12 Episodes



Dirty Money is an original TV show from Netflix that tells tales of corporate greed, stock fraud, and innovative accounting. On 26 January 2018, all six one-hour long episodes started streaming on Netflix.
The executive producers of the series include documentary filmmaker Alex Gibney, who has received an Oscar. Every episode focuses on one example of corporate corruption and each story involves interviews with key players. The show's second season premiered on 11th March 2020.