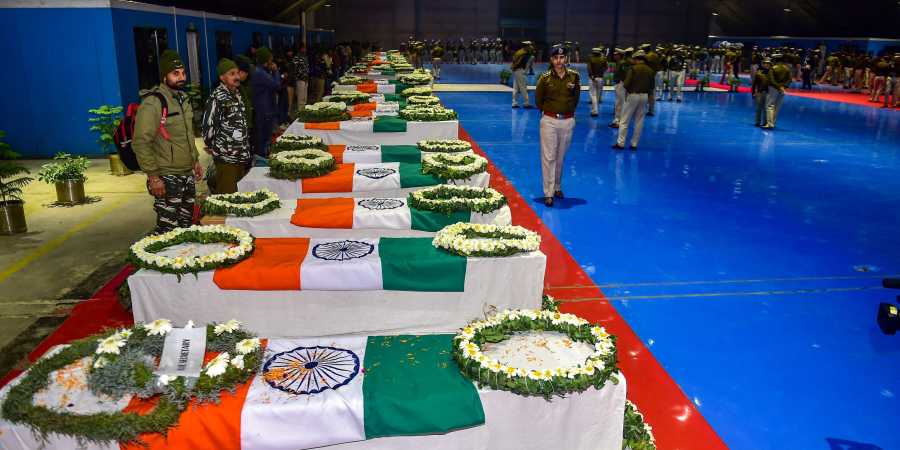 An attack on Indian security personnel that shook the entire world with its magnitude in Pulwama district of Jammu and Kashmir on January 14th, 2019. A year after the dastardly terror attack carried out by Jaish-e-Mohammed group. A CRPF 78-vehicle convoy carrying security personnel on the Jammu Srinagar National Highway was car bombed in the broad daylight where around 40 CRPF troopers were killed.
This incident was shocking and the entire nation mourned with the families affected. Pulwama attack not only was a dent on national security but doubt in the minds of 1.2 billion Indians if they are safe or not?  
Pulwama is still alive and fresh in the hearts of the people and here is how Netizens reacted after one year of the terror attack.
"तुम्हारे शौर्य के गीत, कर्कश शोर में खोये नहीं।
गर्व इतना था कि हम देर तक रोये नहीं।"

WE DID NOT FORGET, WE DID NOT FORGIVE: We salute our brothers who sacrificed their lives in the service of the nation in Pulwama. Indebted, we stand with the families of our valiant martyrs. pic.twitter.com/GfzzLuTl7R

— 🇮🇳CRPF🇮🇳 (@crpfindia) February 13, 2020
Tributes to the brave martyrs who lost their lives in the gruesome Pulwama attack last year. They were exceptional individuals who devoted their lives to serving and protecting our nation. India will never forget their martyrdom.

— Narendra Modi (@narendramodi) February 14, 2020
On the day of love, remembering those who showed a greater love for their country…our #BharatKeVeer. Your sacrifice will always be remembered. My salute to the martyrs of #PulwamaAttack 🙏🏻 We did not forget, we did not forgive. pic.twitter.com/yugSePewV5

— Akshay Kumar (@akshaykumar) February 14, 2020
Tribute to our martyrs who lost their lives in the heinous #PulwamaAttack. It has left scar in our hearts which will never heal. Their sacrifice will never be forgotten. pic.twitter.com/k1fOa3PP4Q

— Suresh Raina🇮🇳 (@ImRaina) February 14, 2020
Salute our martyrs of #PulwamaAttack My SandArt at Puri beach in Odisha.
Jai Hind!!🇮🇳 pic.twitter.com/4yN9QgS7Ip

— Sudarsan Pattnaik (@sudarsansand) February 14, 2020
Always in our hearts. Salute !! #respect #CRPF #PulwamaMartyrs #Pulwamaattack #IndianArmy pic.twitter.com/ERKVNkQxSt

— John Abraham (@TheJohnAbraham) February 14, 2020
February14 th, 2019 shall always remain an unforgettable date . Tribute to our brave CRPF jawans 🙏🏻 Our tears should only make our voice , intention & actions stronger against terrorism. #PulwamaAttack pic.twitter.com/Crk1QQxwsl

— Yami Gautam (@yamigautam) February 14, 2020
14th Feb will always be a sobering reminder of the day an intelligence failure cost us the lives of 44 CRPF jawans. Hope investigative journalists are able to find the connect between asli gaddar and Hizbul aide #DevenderSingh and the cowardly #PulwamaAttack. #NeverForget 💔

— TheRichaChadha (@RichaChadha) February 14, 2020
On this day a year ago, 40 of Our Bravest CRPF Personnel were martyred by a Jaish-e-Mohammed suicide bomber at Pulwama.

We pay homage to Our Bravehearts who sacrificed their lives guarding the Nation against enemy aggression.

Never Forget, Never Forgive.#PulwamaAttack pic.twitter.com/ErR7Fv5OC5

— •Belagavi News||बेलगावि समाचार||ಬೆಳಗಾವಿ ಸುದ್ದಿ• (@belagavi_news) February 14, 2020
Remembering our heroes!! Salute to the bravery you have shown!! #PulwamaAttack pic.twitter.com/tbrtrawl9Q

— Shreyas Group (@shreyasgroup) February 14, 2020
Humble tribute to 40 CRPF martyrs who laid their lives for our country a year ago. You live in our hearts 🙏🏼#PulwamaAttack #Pulwamamartyrs pic.twitter.com/0SSe39LEDq

— Urmila Matondkar (@UrmilaMatondkar) February 14, 2020
Blog Image: www.newindianexpress.com