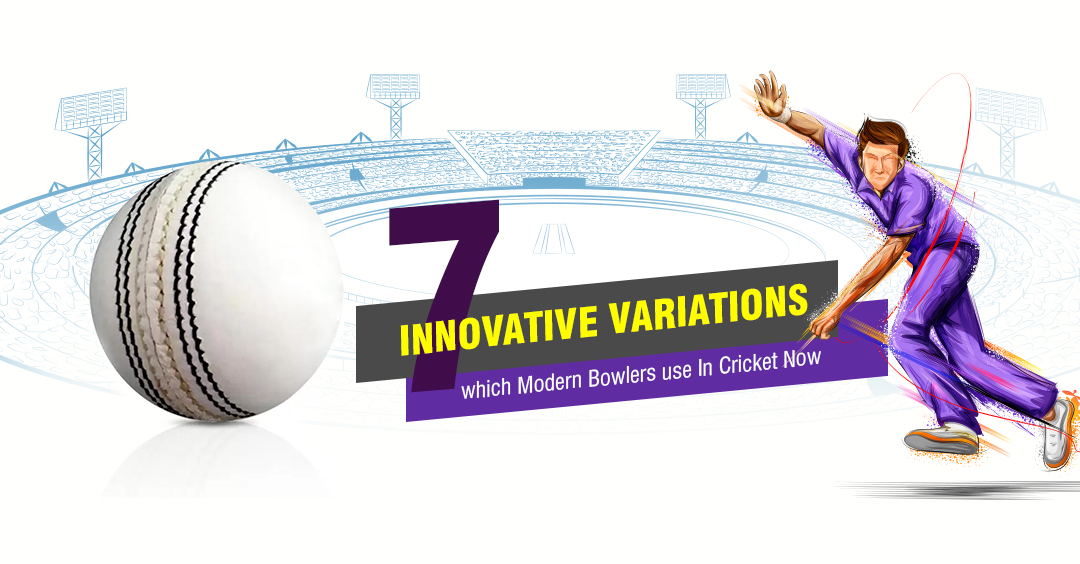 In this era where batsman and T20 cricket dominate bowlers completely, the bowlers have to constantly reinvent their skills to be afloat. We have seen bowlers coming up with a lot of variations in their armory, both pacers and spinners have added several varieties of deliveries to cope up the batsman's attacking shots in the limited over cricket.
Here are 7 innovative variations that modern-day bowlers use to deceive batsman in Limited Overs-
1) Slow Yorker –
Yorkers are one of the best delivery in order to contain runs scored by the batsman in the death overs. If the execution is not right, it might end up for a half volley or full toss for the batsman where the batter can capitalize on quickly. So, we see bowlers like Lasith Malinga (Sri Lankan Pacer) and Dwayne Bravo (West Indian All-Rounder) who have used the slow yorker quite a lot with perfection. The ball looks initially a waist-high bowl but dips abruptly as it reaches the batsman which ends up yorking him. Jasprit Bumrah (Indian Pacer) has also used yorkers to deceive a lot of batsmen in limited-overs in recent times.
2) Carrom Bowl –
Mostly bowled by the spinners where the ball is held between the thumb, fore-finger and middle-finger also the release is like opening a bottle-cap anti-clockwise. Ravichandra Ashwin (Indian Spinner) used quite a lot in T20 and recently Mujeeb Ur Rehman (Afghanistani Spin-Bowler) has been using quite a good effect.
3) Knuckle Ball –
Knuckle ball is a type of a slower one where the bowl is held on the knuckles of Index and Middle finger instead of a conventional grip. This was popularized by Indian Pacer Zaheer Khan ( Indian Pacer)  and others followed thereafter. To the batsman, the ball looks stock delivery with upright seam but the ball arrives a bit slower than anticipated by the batsman. Bhuvneshwar Kumar (India Pacer) is also one of the knuckle bowl exponent.
4) Slider –
A slider is basically a variation bowled by leg spinners which looks similar to a leg break. The bowler rolls his fingers down the back of the ball and gives it a bit of backspin. The ball doesn't spin and also bounces low compared to the leg break and the batsman expecting some spin get foxed by the slider. Shane Warne (Australian Leg-Spinner) and Adam Zampa (Australian Leg-Spinner) have mastered this particular delivery quite well and used successfully in limited-overs.
5) Split Finger Slow Ball –
This is another variety of slow bowling where bowler holds the ball in between the index and middle finger webbing between the two fingers. The ball is basically bowled at a full-length where it suddenly drops and deceives the batsman with its slowness in nature. Tom Curran (England's  All-Rounder)  and Dilhara Fernando (Sri Lankan Pacer) have used it a lot to fox batsman.
6) Slow Bouncer –
Bouncer has been one of the surprise elements that a bowler bowls at the batsman but with the modernization of cricket and shorter format, the batsman has got better with it. So, the bowlers have come up with the slow bouncer where the bouncer is being bowled slowly. This has been used by many bowlers nowadays in the shorter format of cricket and the batsman fail to pick up many a time. Morne Morkel (South African Pacer) and Pat Cummins (Australian Pacer) are the two bowlers who have used slower bouncer to a good effect.
7) Round Arm Bowl –
This particular delivery is from below shoulder height with round-arm action. The bounce is low as compared to other bowlers bounce where batsman fail to anticipate. Lasith Maling (Sri Lankan Pacer), Fidal Edwards (West Indies Bowler) and Shaun Tait (Australian Pacer)  have been top exponents as a fast bowler but recently Kedar Jadhav (Indian Spinner) has used to a great extent in Limited over format to deceive batsman as his bowl doesn't bounce much because of  his height the release point is below average.
Which one do you like the most?