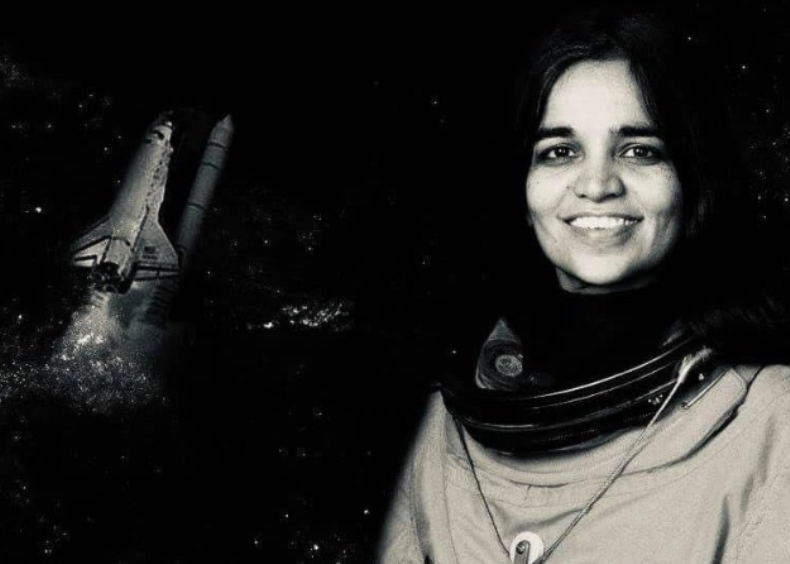 Kalpana Chawla was the first woman of Indian descent to go to space. She was born on 17 march,1962 in Karnal, Haryana and the first women who went into space in 1997 and became the second Indian person to fly in space following astronaut Rakesh Sharma.

She died on 1st Feb 2003 at the age of 40yrs and fondly been recalled by the world for her outstanding achievements and success in space.
She became the role model for many young women in India as well as around the world.

In 2003 Kalpana Chawla died in a space shuttle disaster in Columbia. Upon re-entry into Earth's atmosphere the shuttle disintegrated over Texas.

Kalpana Chawla was retrospectively awarded the Congressional Space Medal of Honor, and several streets, colleges and institutions have been named in her honor. She is regarded as a national hero in India.

Many Indians including several political leaders paid homage to Kalpana Chawla on twitter.

Tribute to First India Women Astronaut
to go to Space Kalpana Chawla on her death anniversary. #KalpanaChawla pic.twitter.com/05rG21vhSH

— Hiren Joshi (@ihirenjoshi1111) February 1, 2020
Today, on her death anniversary, we pay tribute to this national hero. #KalpanaChawla pic.twitter.com/pksrUpbS41

— Kamal Kishor Commando🇮🇳 (@KamalKishor_INC) February 1, 2020
Remembering first woman of Indian descent to go to space #KalpanaChawla on her death anniversary. Her life journey always inspire many people to conquer their dreams..@CLEOPATRACinem1 pic.twitter.com/JgXJkbTRtz

— CLEOPATRA Cinemas (@CLEOPATRACinem1) February 1, 2020
Tribute to Kalpana Chawla for her memorable achievement that inspires women to follow their aspirations with passion & dedication!#KalpanaChawla pic.twitter.com/5Ran7SjLAp

— Sunil Tingre (@suniltingre) February 1, 2020
Tribute to Kalpana Chawla for her memorable achievement that inspires women to follow their aspirations with passion & dedication!#KalpanaChawla pic.twitter.com/5Ran7SjLAp

— Sunil Tingre (@suniltingre) February 1, 2020
"The path from dreams to success does exist. May you have the vision to find it, the courage to get on to it, and the perseverance to follow it. Wishing you a great journey" – Kalpana Chawla
A humble to tribute to Haryana ki beti #KalpanaChawla on her commemmoration day 🙏 pic.twitter.com/oA1xtwQqRh

— Kuldeep Bishnoi (@bishnoikuldeep) February 1, 2020
Remembering #KalpanaChawla on her death anniversary.

She was the first woman of Indian-origin to fly to space. In her will #KalpanaChawla had said that after her demise her ashes be either scattered over the Himalayas or the Zion National Park in Utah.

Humble Tributes. pic.twitter.com/EXdp1qfZcs

— Dayanand Kamble (@dayakamPR) February 1, 2020
Tribute to proud Daughter of the Nation #KalpanaChawla on her Death Anniversary. pic.twitter.com/pOuMM80GU5

— Amit Thaker (@AmitThakerBJP) February 1, 2020
India's first woman in space, #KalpanaChawla, continues to be an inspiration for millions. Tributes to the symbol of courage & dedication on her death anniversary!

— Abhishek Dutt (@duttabhishek) February 1, 2020
Remembering the first woman in space #KalpanaChawla on her death anniversary. A true idol who made history.
Her legacy is one that encourages young girls & women everywhere to conquer their dreams and strive on. pic.twitter.com/PgXXMoEZAf

— NSUI (@nsui) February 1, 2020
We remember one who was on every girl's 'I want to grow up and be Kalpana Chawla" wish.

With her giant leap as first Indian woman in space, she gave wings to the dreams of young girls in the small towns and villages that nothing is impossible.
Our homage!#KalpanaChawla pic.twitter.com/g9MktKSYJo

— All India Mahila Congress (@MahilaCongress) February 1, 2020
Remembering the first Indian woman descend to go to space, Kalpna Chawla.#KalpanaChawla pic.twitter.com/eXwyfBLNEB

— Srinivas B V (@srinivasiyc) February 1, 2020
India Untold with @sunitaiyer | On Feb 1, 2003, India's #KalpanaChawla died along with 6 others in @NASA's Space Shuttle Columbia disaster. Here's the lesser-known story of her childhood.@isro @ISRO_News @IndiaDST @drharshvardhan @yschowdary @PMOIndia @NASA_Astronauts pic.twitter.com/fAVHSVYOAJ

— MyNation (@MyNation) February 1, 2020
"I would say if you have a dream, follow it. It doesn't really matter whether you are a woman or from India or from wherever. . . "

Remebering the first Indian woman in space, astronaut #KalpanaChawla on her death anniversary. pic.twitter.com/FCa3uvjHiW

— Vasundhara Raje (@VasundharaBJP) February 1, 2020
Remembering first woman of Indian descent to go to space #KalpanaChawla on her death anniversary. Her life journey always inspire many people to conquer their dreams. pic.twitter.com/7YxcE6INfJ

— Neeraj Kundan (@Neerajkundan) February 1, 2020
Remembering astronaut #KalpanaChawla , who on this day in 2003, was part of 7-member crew that perished in the Columbia Space Shuttle disaster. The girl from Haryana's Karnal has made every Indian proud. pic.twitter.com/MOErQdsdAp

— Rajat Sharma (@RajatSharmaLive) February 1, 2020
Humble tributes to the first Indian-American astronaut Kalpana Chawla on her 17th death anniversary. #KalpanaChawla pic.twitter.com/5zXYR5ZVhH

— Rekha Sharma (@sharmarekha) February 1, 2020
The first Indian origin woman to be in the space #KalpanaChawla will be remembered forever. I salute her determination, her perseverance and above all her courage to defy odds. pic.twitter.com/orZHDmvQ3v

— Harsimrat Kaur Badal (@HarsimratBadal_) February 1, 2020
Tributes to Late #KalpanaChawla , the 1st woman of Indian 🇮🇳 origin in space on her death anniversary. pic.twitter.com/4192goZKQ0

— BJP Rajasthan (@BJP4Rajasthan) February 1, 2020