It's been more than one week of Sushant Singh Rajput's death. Soon after his death, the film industry has been divided into some groups on the issue of nepotism.


In one of his posts on Instagram, Sushant replied to one of his fans comment – he wrote – "If you don't watch it, then they'd throw me out of Bollywood. I have no Godfather. I've made you (all) my Gods and fathers. Watch it if you want to see me survive in Bollywood".This comment truly expresses how stressed he was about his movies.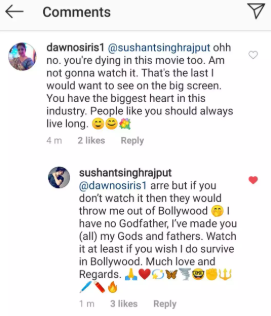 Soon after the news of his death, a spate of social media posts blamed a particular section of Bollywood for pushing him to take this dramatic step, with # nepotismkilledsushant on the top.
Several names within the industry including Kangana Ranaut, Vivek Oberai, and many more Celebrities revealed the harsh reality of the glamorous show business world.

Kangana Ranaut shared a Video expressing her views on nepotism and the sad reality of Bollywood.

Quoted –" It is important to give talent their due. And if celebrities are struggling with personal and mental health issues, the media should try and emphasize with them, rather than making it difficult for them!''

After that, she also shared another video in which She lambasts the "intellectual journalists" and exposes a list of blind articles written about the late actor Sushant Singh Rajput. In the new video, Kangana talks about how the media harmed him by blind objects.

Actor Vivek Oberoi wrote a heartfelt message, "I could share my personal experience with Sushant and help him ease his pain."

Tapsee Pannu also questioned on the same that, what will be the final deciding parameter while casting actors?
Style Movie Actor Sahil Khan took Instagram and said that he has alleged that his career was sabotaged by one of the Khans.
Taking to his Instagram handle, he wrote, 'BOHUT KAM LOGON KE SAATH ZINDAGI MAIN AESA HOTA HAI KE APNI 1st FILM #STYLE KE BAD INDIA KE SABSE TOP FILM MAGAZINE KE COVER PAR, DO INDIA KE SAB SE BADE SUPERSTAR KE SAATH HO…. MAGAR UNME SE EK SUPERSTAR KO BOHUT BURA LAG JAB KE MAIN TO NAYA THA, UNKA FAN THA, KAMZOR THA PHIR BHI WOH MUJHE KAI BAAR SIDE ROLE KE LIYE BULATE RAHE, TV SHOW KE LIYE BHI BULATE RAHE – AUR PHIR KAI FILMS SE MUJHE NIKALWA DIYA NAAM BADE AUR DARSHAN CHOTE GUESS WHO ???
Divided into the debate, many in the industry feel that it's time for nepotism to come to an end and real talent to get a chance they deserve, while some argue that Rajput 's death has nothing to do with star-kids culture.