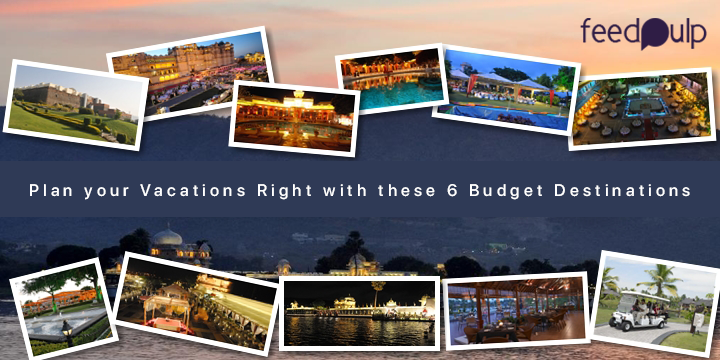 Plan your Vacations Right with these 6 Budget Destinations
Vacations are around the corner and you have certainly started looking for places where you can make the most out of this time. Now while you want the best of fun, you definitely do not want to hang up on a location that burns a hole in your pocket. We bring to you 6 budget destinations to help plan your vacations right. Check them out!
1) KASOL:-
Kasol is a gorgeous little village situated in the Parvati Valley of Himachal Pradesh(India). This picturesque village is in the district of Kullu and is on the banks of Parvati river. Though Kasol is a year-round destination, it is best visited during the summer months of May and June. However, people also love to visit Kasol during the winter months of November to February. Every time you visit Kasol, it will give you different vibe altogether which will make sure you come back again.
How to reach– Take the direct bus (HRTC or Volvo, whichever fits your pocket ) from New Delhi and reach Kasol. If you are not able to find direct buses to Kasol, then you can take any bus going to Manali and get down at Bhuntar. From there on, you can take the local bus till Kasol.
Average Budget – If you stay for 2N-3D then it can cost you up to 4-5k since lodging is quite cheaper as compared to other places.
2) RISHIKESH :-
Rishikesh is in Uttrakhand and it is also known as the Yoga Capital of the world. People travel from all over the world to do yoga and learn various aspects of Hinduism. Rishikesh is located on the banks of Ganga (or Ganges), the most sacred river to Hindus and it is one of the holiest places for Hindus as well. White water rafting, camps on the beach, adventure sports like rock climbing, zip lining – all on budget, Rishikesh is the perfect destination which will not dent your pockets much.
How to reach– State Transport buses and private Volvo buses are on regular basis from New Delhi which will directly take you to Rishikesh bus stand. From there on, you can either take Auto Rickshaw or can walk (If you don't have much luggage)  as it is hardly a couple of kilometers till you reach Rishikesh.
Average Budget – Food and Lodging is cheaper when you have the skills to negotiate with the hotels. So, a 2N-3D trip may cost you around 3-4K.
3) Jaipur:-
Jaipur, famously known as the Pink City, is the capital of Rajasthan. Being close to Delhi, it attracts lot of people looking for a weekend drive and a change from their daily routine. Jaipur is best to visit between September – March when the temperature is mild and pleasant as in summers the temperature might shoot above 50+. There are a lot of places to explore in Jaipur like – Hawa Mahal, Bhangarh Fort, Jal Mahal, and Nahargarh Fort, City Palace, etc are some major places to visit.
How to reach– You can reach Jaipur either by Buses or you own mode of transport. Buses are on an hourly basis and each hour you can find a bus going to Jaipur from Delhi Cant. The fare is also not that fancy.
Average Budget – Budget for a 2N-3D trip can cost you to 5-6k.
4) VARANASI:-
Varanasi is one of the oldest cities of India, which is situated on the banks of the Ganges river in Uttar Pradesh with 84 ghats. Explore the city while walking as traffic is not pleasing in most places. The old houses, local streets, local food, artistic buildings, and the famous Banarasi Paan are a few things you can definitely enjoy while on the feet. Ganga Aarti and boat ride will definitely make you go wow for the most part of it. Varanasi is home to cultural diversities of India, which the world is unaware of. Several guest houses offer affordable stay, also you can find cheap hostels where people from all over the world come to visit this holy place.
How to reach– Train and Buses are one of the Cheapest modes of transport. Trains are quite regular to Varanasi Station and then take Auto Rickshaw or private cab to reach your place.
Average Budget–  A 2N-3D trip will cost you around 5-6k of budget.
5) Pondicherry:-
Pondicherry is known as the French city of India which is the capital of Union Territory Puducherry. Pondicherry passed hands from the Portuguese, French, British and eventually to free India. The influences of each of these can be seen in the architecture, food, and administration. Walk the cobblestoned streets during the day and put up your feet at the innumerable cafes on the beach in the evenings. Alcohol and staying here is cheaper in this particular part of the country and one can even enjoy the touch of French culture.
How to reach–  India Railways are quite economical as compared to other modes of transport. Train fares from Bengaluru and Chennai can cost you between Rs.300-500 for one side. The nearest rail station from Pondicherry is Villupuram, which is about 35 kilometers away from the town. Once, you reach Villupuram, take private cab to reach the town.
Average Budget–  It can cost you 5-6k for a 2D-3N trip.
6) GOA –
Goa is famous for its beaches and the tourists who come to live and explore the state. Goa has a lot to offer to every segment of people from nature lovers to the party animals. The most amazing places in Goa are all for free, and you can go there multiple times and stay as long as you wish to stay unlike most of the other places in the country. Goa offers hell lot of party places and things for adventure as well.
How to reach–   Again India Railways comes handy while you are budget oriented else one can take direct flights as well. Goa has two main stations, Madgaon and Thivim. If one is travelling to South Goa, then choose to get down at Madgaon Station. If one is planning to stay in North Goa, prefer Thivim. From there, you have to take a private cab (there is no Ola or Uber) or you can take state government bus from the bus stand which will be much cheaper.
Average Budget– For 3N-4D trip it can cost you around 6-7k.