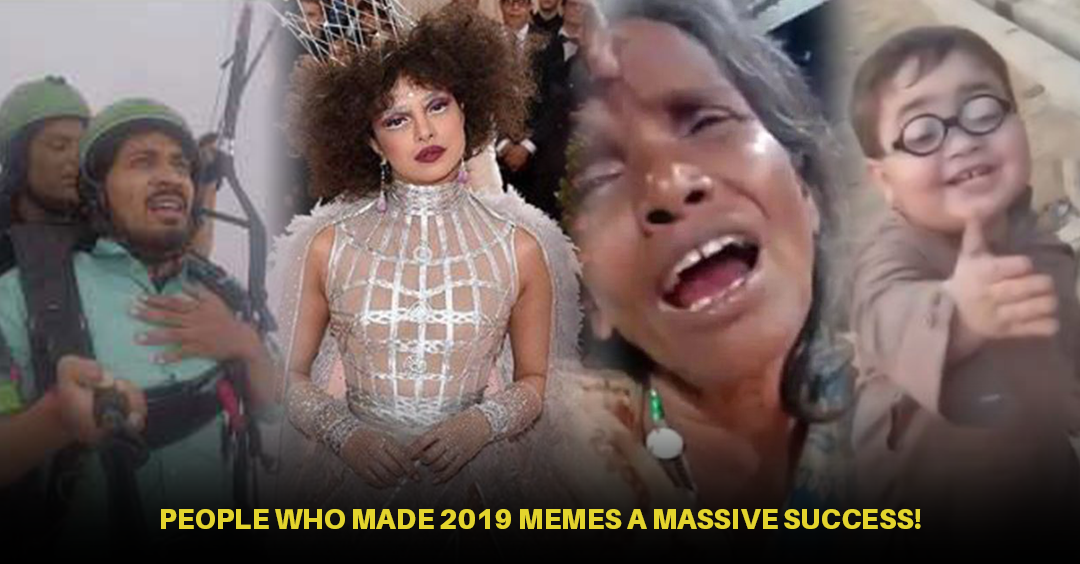 Memesters are some creative heads who put anything ordinary into laughable content. The majority of memes are captioned photos that are intended to be funny. While some are good, some hit the sentiments of the people involved. 2019 was a year full of memes and many videos went viral in this particular year. Here we reflect on some of the best people who made 2019 memes a massive success-
Pakistani Angry Fan- World Cup 2019
India Vs Pakistan cricket match is always so tense between the two nations and each team's fans want their team to win. India beat Pakistan in the high profile world cup 2019 match to which, this fan was left disappointed and ranted about the Pakistani players eating pizza and burger a day before.
Pakistan captain Sarfaraz had burgers and pizza before the match later on the leftover enjoyed by Shoaib Malik, Fakhar, Imad, Babar, and others.

This is a serious matter. Hope issue will be resolved by 2024 🍕🍔✌🏽😆😂😭 #PakVsIndia #MaukaMauka pic.twitter.com/j8gCsxpEsP

— Irfan ˗ˏˋ 🚀 ˎˊ˗ (@simplyirfan) June 16, 2019
2)Rahul Bose Banana case

In a video where Rahul bose said He was working out in the gym at the Chandigarh Marriot Hotel when he ordered 2 bananas after his workout, he was charged Rs.442.50 for it. A case was registered against the 5-Star hotel and later they were fined 25k. But memes kept flowing to what happened with him.
You have to see this to believe it. Who said fruit wasn't harmful to your existence? Ask the wonderful folks at @JWMarriottChd #goingbananas #howtogetfitandgobroke #potassiumforkings pic.twitter.com/SNJvecHvZB

— Rahul Bose (@RahulBose1) July 22, 2019
A colleague's Rahul Bose moment when he had to pay Rs 180 to the cobbler for getting his shoes polished.
He regretted not dusting them at home.

— Supriya Sundriyal (@supriya06101) July 25, 2019
isnt buying popcorn and pepsi at movie theatre is everyone's "My Rahul Bose" moment pic.twitter.com/p38aOp6ZBk

— fardeenhussain (@iam_fardeenh) July 24, 2019
July 25, 2019
Seeing the outreach of the video and its popularity, brands joined in too, to gain engagement in a very sleek manner.
Western Railway can take you at many tourist spots around the western zone of India. Travel easy with WR at an affordable price (approx. fare for Sleeper class). #RahulBoseMoment #WRKiSawari pic.twitter.com/El6iap7vpN

— Western Railway (@WesternRly) July 26, 2019
We're #GoingBananas at what you get at the rate of two bananas these days. #JustSaying. pic.twitter.com/qAKXm78aqB

— &flix (@AndFlix) July 30, 2019
Protect your family from financial insecurity after you at the cost of 2 bananas and protect them from the lemons that life might give them. 😄 #RahulBoseMoment #RahulBose pic.twitter.com/OszdmEuSPH

— Policybazaar (@policybazaar) July 25, 2019
Eat pizzas🍕 like a bose!#TastiestPizzasAt99 pic.twitter.com/wgdzXpZAqk

— Pizza Hut India (@PizzaHutIN) July 25, 2019
With us, you will always get your bananas at #PricesYouWillLove #RahulBoseMoment pic.twitter.com/xjMgDw6JoL

— Nature's Basket (@NaturesBasket) July 25, 2019

3) Manali Paragliding Guy

A hilarious video went viral in which a guy was taking paragliding ride in Manali. After a while, the ride turns nasty for him as the fear of height caught him mid-air. The guy wanted to land as soon as possible and bribed the pilot to make a safe landing. Some of the words he uttered, went viral and soon the memes kept coming for a long while.
#myoriginalmeme #paragliding #Trending #MEMES pic.twitter.com/caangi451m

— Anmol Gupta (@im_anmolgupta05) August 27, 2019
When salaried people take the plunge and start a business 🤣 pic.twitter.com/SdKXdDBI63

— Gabbbar (@GabbbarSingh) August 26, 2019
When you fly high with Guruji 😂😂😂😂#TheHumourlessMemes #Paragliding #SacredGamesS2 #SacredGames pic.twitter.com/9zkIbJtel8

— The Humourless Memes (@thehumourlessm1) August 28, 2019
*boards flight for the first time*

*little turbulence happen*

me to pilot: pic.twitter.com/BSJgww9NsZ

— capt. (@thephukdi) August 26, 2019
Baat Suna Karo 😂#fun #meme #memesdaily #jokes #laughter #viral #paragliding #trending #beawaramemes #gags #just4fun #friendship #crush pic.twitter.com/a4Fd0iDrdd

— Be Awara (@beawaraofficial) August 28, 2019

4) 'Piche toh Dekho' Pakistani Boy

Ever since 'Peeche Dekho' video of a Pathani baby boy came on the internet, the video went viral and everyone loved the innocence of the cute boy who is from Pakistan. Soon, the memes came out rolling and his dialogue was being used in every meme those days.
Piche Dekho Piche 😂😂😂 pic.twitter.com/O5jbE1qmIA

— ZEE. 🇵🇰 (@iBleedGreenZEE) April 11, 2019
Ignored the warning, paid the price#peecheDekho pic.twitter.com/zKnHz2OGSZ

— Dinesh Pandey (@dp2705) April 14, 2019
Legend 😂#peechedekho pic.twitter.com/Wk7vLAYEmZ

— Arih (@ariiihhh) April 13, 2019
Others : I don't look back unless the view is good

Me : I don't look back unless someone says "peeche to dekho"

— theaniketsingh🌸 (@AniketS97396855) April 15, 2019

5) Panjak Tripathi- Scared Games 2 ( Balidan Dena Hoga)

People were eagerly waiting for the Scared Games season 2 and when it came out, one of Pankaj Tripathi's dialogues from the trailer went viral. Soon, memes carried on it and a number of posts came from every aspect somewhere referring to the same dialogue.
My EMIs to me as soon as my salary is credited#SacredGames2 pic.twitter.com/NhdvjnZGNa

— Chirag (@igot10on10) July 9, 2019
#sacredgames2

😂😂😂 pic.twitter.com/3xLATkBsjO

— Stark ⎊ (@heyitsAbhi_) July 9, 2019
When your crush asks your Netflix login details but you were using someone else's account and now you've to buy one.#SacredGames2 pic.twitter.com/uYATVIPprg

— Pulkit (@voxxpopli) July 9, 2019
Me to my younger brother when i have done something wrong :#SacredGames #sacredGames2 #sacredgames2 #Netflix #sacredgames2 pic.twitter.com/6eCK11nKjN

— Saurav Anand (@Saurav__24) July 9, 2019
#SacredGames2

Civil engineer exist

Sleep: pic.twitter.com/lnuykcmfaf

— Coreline Consultant (@CorelineC) July 9, 2019

6) Priyanka Chopra Met Gala Dress

Priyanka Chopra dressed in haute couture Dior was one of the famous meme highlights of 2019, The ace actress went to Met Gala's red carpet with her husband Nick Jonas. Her dress and make-up were soon picked up by memesters and photoshopped into memes.
New look 🤣
But kiska 😂#PriyankaChopra #NickJonas pic.twitter.com/wpqu1KZmpE

— udit_tiwari_ (@uditv12) May 7, 2019
#PriyankaChopra #MetGala2019 #MI pic.twitter.com/DvrCyhJyjD

— SoumyoJ!T (@Iam_soumyojit) May 7, 2019
Who did it better ?
RT for Malinga
Like for Priyanka pic.twitter.com/XyjKaf1vQv

— Corporate Dalit (@CorporateDalit) May 7, 2019
1) Someone clicks my pic.
2) I click someone's pic.#MetGala #MetGala2019 pic.twitter.com/Xa0R0ixBco

— Rajat 🇮🇳 (@Rajma123) May 7, 2019
Why does Priyanka Chopra look like Viru Sahastrabudhhe?

— Photographer Faizan Patel (@faizanpatel) May 7, 2019

7) Shahid Kapoor's Kabir Singh Dialogue ( Kisne Touch Kiya)

Following the Kabir Singh success, its dialogues which were depicted into memes had also a fair bit of success. Shahid's dialogues got many memesters excited and they did their job the best they could as these memes were seen for quite a long time.
When you get to know that someone ate your leftover pizza from last night. pic.twitter.com/Mfjh1uJFSe

— Pakchikpak Raja Babu (@HaramiParindey) April 8, 2019
Ab koi mera charger touch nahi karega pic.twitter.com/OvUk2zrFlD

— Akshar (@AksharPathak) October 18, 2019
When someone removes my PHONE from charging point#KabirSingh pic.twitter.com/irSuNDmNnp

— Chhoro Marwadi (@ChhoroMarwadi) April 8, 2019

8) Alia Bhatt's Gully Boy Dialogue ( Mar jaega tu)

One of the most successful films of 2019, Gully Boy grabbed a lot of attention with its trailer launch, but memes followed with it as well. One of Alia Bhatt's dialogue 'Mar Jaega Tu' from Gully boy exploded with memes and was very popular in that particular month.
#GullyBoyTrailer #GullyBoy
He : baby Khao meri Kasam hamesha loyal rahoge mere Sath

She : yes baby tumhari Kasam .

*Inner she thinking* pic.twitter.com/tMQfaGTziJ

— Nikhil Kathpalia (@shakalse_single) January 9, 2019
When he argues to ride a motorcycle without wearing helmet #SillyBoy pic.twitter.com/OPzycNdEAm

— Mumbai Police (@MumbaiPolice) January 10, 2019
#GullyBoyTrailer

When you look up your common cold symptoms on the internet

Google : pic.twitter.com/E44UsbLGX3

— SwatKat💃 (@swatic12) January 9, 2019

9) Ranu Mandal's Singing

A talent that needed to be discovered, Ranu Mandal's signing got exposure as her soulful voice was appreciated by many. But some of the videos showed her other side after she got famous which wasn't appreciated by the Online community and soon memes pounced on her, making fun of some of the comments made by her.
Pic 1:- When she is your girlfriend
Pic 2:-Still she is your girlfriend😂 but this pic was clicked on #Halloween #RenuMandal pic.twitter.com/WussmaCkXg

— Cult (@MrOwNeRG) November 16, 2019
#RanuMandal

Upcoming Movie 2020 – Directed By " Himesh Reshamiya " 🔥🔥 pic.twitter.com/k07cvONwO4

— Pratham Mishra (@Pratham_Pratz) November 17, 2019
Maine Banaya 🙈 #ranumondal

Pehchano kaun si real hai ?
Pic : 1
Pic : 2 pic.twitter.com/GEdAhvsvNN

— Gagan🇮🇳 (@1No_aalsi) November 17, 2019

10) loose Talk Chacha

Known as Harmonium Chacha, a Pakistani actor from a chat show Loose Talk with Anwar Maqsood being the host. His 'Abbe Saale' dialogue made many people jump on their toes since it was filled with humor and laughter. Of late, that was also circulated in most of the memes in the last couple of months.
I can't stop laughing 🤣🤣#Harmonium #abbaharmoniumbajatethe pic.twitter.com/yN501OhOsm

— Sugar Cup☕️ (@Sonia177sweet) November 28, 2019
#AbbaHarmoniumBajateThe – IPL 2019#AbbaHarmoniumBajateRahenge – IPL 2020#ThisIsNewDelhi #DelhiCapitals pic.twitter.com/zpLXRxCeYa

— Delhi Capitals (@DelhiCapitals) November 30, 2019
Himesh Reshammiya said one day Renu mandol won an oscer in signing.

Arijit Singh :#AbbaHarmoniumBajateThe pic.twitter.com/kGhQ9UUaFz

— Sarcasmic_hunt (@Sarcasmic_hunt) November 29, 2019
#abbaharmoniumbajatethe
Pic 1: Abba
Pic 2 : Harmonium pic.twitter.com/jmjDJMAYFH

— Inderjeetjha (@Unknown_Bihari) November 27, 2019
**friend see me at movie theatre**

Friend : Aur kya kr rha hai yha.

Me:#harmonium #abbaharmoniumbajatethe pic.twitter.com/jA1PQYfjao

— AHEM BRAHMASMI (@the_aishwary_) December 9, 2019

2019 was filled with memes all around the internet and these people were icing on the cake. We hope the coming year will be also be stuffed with laughter, joy and memes.