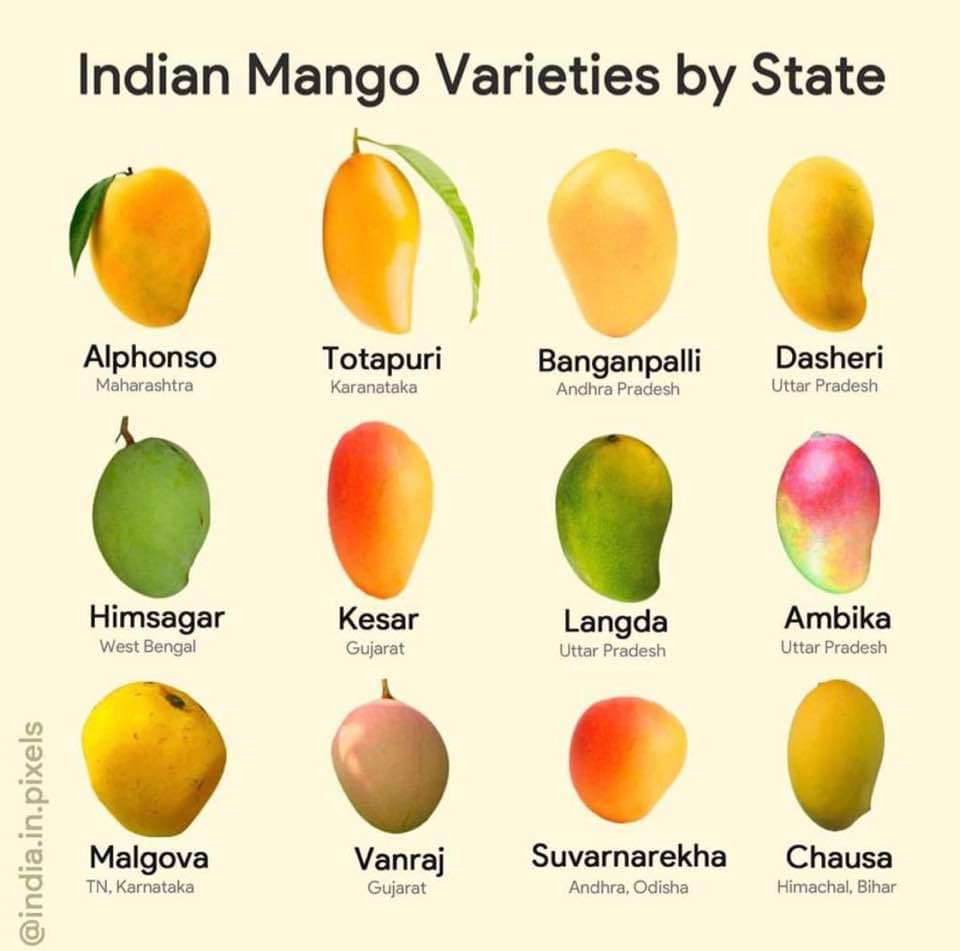 Mangoes are loved by Indian people. The summer fruit, Mango has different shades and name in various state and regions. Children eagerly wait for the mango season to arrive, to use for numerous verities including smoothies, shakes, pickles, desserts or to enjoy as a fruit wholeheartedly. Though India grows large range of mangoes, believed the number reaches more than 1500 kinds. But there are famous mangoes of particular state or region which they preferably enjoy the most. Mangoes are easily available in any corner of the country, becomes favourite fruit for kids in their summer vacation. With its popularization, people tend to explore their variation to see what all changes in their character. So, we present you Indian varieties by state –
Alphonso – Maharashtra
Widely loved variety of mango, Alphonso has its root from Maharashtra. Also known as Aapoos, Hapus or Hafoos in various regions. Alphonso is loved nationwide as well as internationally. The fragrance, taste and quality are unmatchable. All age group enjoys Alphonso or Hapus with great joy.
Totapuri – Karnataka
Totapuri or Ginimoothi mango has its origin from Karnataka. This variety of mango is grown majorly in South India. The shape and size of totapuri mangoes are a bit different from its other cousins. Karnataka and Tamil Nadu are the large exporters of totapuri mangoes. Pulp of this variety is extensively used by mango juice maker companies.
Banganpalli – Andhra Pradesh
Named over its cultivar region Banganpalle, Banganpalli mangoes are larger than Alphonso in size. Its edible skin makes it more interesting for its lovers. Grown for over 100 years in Andhra Pradesh, Bangapalli is fiber-free with aroma fragrance coming out makes it more tempting.  This variety of mango, Banganpalli is often regarded as summer queen due to its popularity among eater.
Dasheri – Uttar Pradesh
Uttar Pradesh produces a lot of different varieties of mangoes, but Dasheri mangoes has its own charm among mango lovers. Regarded as oldest and sweetest variety of Mangoes, Dasheri have reason to enjoy. Its fine quality has rich fiber and vitamin c. Dasheri is exported and supplied to all over country as a result of vast lovers.
Himsagar – West Bengal
Another variety of mango, Himsagar has origins from West Bengal. Himsagar or Khirsapati is one of the must-try variety that impresses the eater with rich pulp filled inside. West Bengal produces Himsagar mangoes at very large quantity and is easily available in the marketplace from early June.
Kesar – Gujrat
Kesar mangoes are quite expensive when compared to its other siblings. One of the famous variety available in Gujarat, Kesar is also found in parts of Uttar Pradesh. Regarded as table mangoes, recommended to eat fresh. Has very sweet taste, Kesar can be enjoyed as shake or desert.
Langra – Uttar Pradesh
Another variety of mango which grown at huge numbers on the soil of Uttar Pradesh, langra is quite famous across north-India. Langra's USP is that, remains greenish till it ripens completely. You cannot judge it with a look, like other mangoes to tell if it is ripened or not.
Ambika – Uttar Pradesh
Uttar Pradesh is rich state with wide range of mangoes grown in the state. Ambika is hybrid mango, as a result of a cross between the Amrapali and the Janardhan Pasand Mangoes. It is mid-size mango with red blush attractive colour on top, also ripens late.
Malgova – Tamil Nadu/Karnataka
One of the juiciest mangoes, Malgova is mainly grown in south-India largely in Tamil Nadu and Karnataka.   It does not turns completely yellow when ripe, retain its green colour with hint of redness. Malgova has similar structure like Alphonso but both has different taste altogether.
Vanraj – Gujarat
One of expensive variety of mangoes, Vanraj origins from Gujarat. It is deep coloured with red blush on the skin. Vanraj is ovate oblong shaped and tastes good on your buds. Famous fruit grown in Vadodara district, Vanraj has huge lovers.
Suvarnarekha – Andhra / Odisha
Famous for its early fruiting quality, marjorly found in Odisha. Survararekha is ovate-oblong and slightly flattened in nature. It has juicy pulp which makes it perfect for shakes and smoothies.
Chaunsa – Himachal Pradesh/ Bihar
A popular variety of mango in North-India, Chaunsa is cultivated in Himachal Pradesh and Bihar. This variety of mango has very sweet pulp with thick bright yellow covering. Chaunsa is also believed to have high nutritional value. Fits perfect to beat the heat.
Which of these variety of mango you enjoy the most? Write in the comment section below.