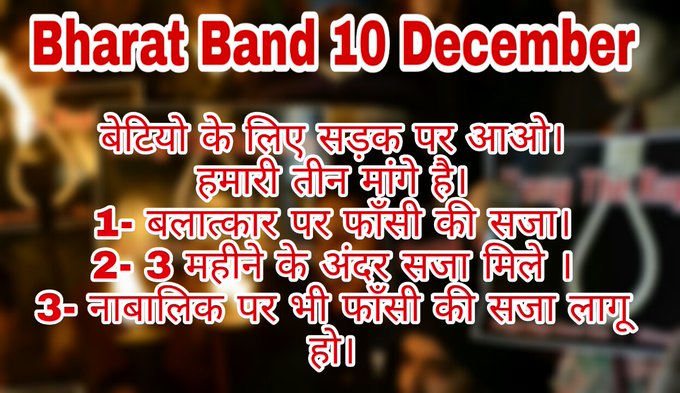 Since the December 2012 gang-rape and murder case, rape and sexual violence against women have been in focus in India. Still, there has been no sign that crimes against women are subsiding.
According to the government crime figure data, there are 33,658 police registered cases of rape in India in 2017, that means an average of 92 rapes every day.
After the Dr. Priyanka Reddy rape case, BharatBand10December is trending all over Twitter. What to say after such a brutal rape and murder case, a country where girls are burnt alive a few miles from home. This is really painful and disturbing for the whole country.
In order to stop these rape cases and to create fear in the minds of the culprits, people started this campaign, and say that India should be closed on December 10 and all people should join this mission and come on the streets and ask for the hanging of Priyanka Reddy's culprits.
Thousands of angry tweets demanding justice for her and people are demanding strict laws from the government for rape cases.
IN SUPPORT OF WOMAN

IN RESPECT OF WOMAN

IN JUSTICE OF WOMAN

WE SUPPORT#BharatBand10December pic.twitter.com/vF9VAtw30K

— RAMGOPAL RLP (@RAMGOPA45995938) December 3, 2019
#BharatBand10December
Make islamic law Against rapists in Islam for rapists.👇👇👇👇👇👇 pic.twitter.com/knoqsJC1yq

— Samir Khan🐬 (@Murli20915352) December 4, 2019
-Inflation -Bharat Band
-Slowdown -Bharat Band
-Fee hike -Bharat Band
-Labour -Bharat Band
Agitation
-Rape & guess what?#BharatBand10December
Enough of this naxal style agitation!
We need aware, alert, sensible Bharat in RUNNING condition to stop these Inhuman acts. pic.twitter.com/fnUjnU53ra

— Siddharth Gauraha (@Sidddheart) December 4, 2019
#BharatBand10December
I wonder, what are you good at?
Is that corruption, taking bribes at almost every sector, politics, education system, providing government services, stopping crimes like rape, killing, harassing etc?
Yes, India is developing but in a opposite way. No wonder! pic.twitter.com/qdv3i4vng7

— iAJay (@iAJay5514) December 4, 2019
hang or burn the rapists alive #BharatBand10December #JusticeForPriyankaReddy #JusticeForRoja pic.twitter.com/BJP2ugI4NH

— Kavita Chavan (@iamkavitachavan) December 4, 2019
I support death penalty for rape
If we create fear in the minds of rapists that was the best result to control this type of cases#BharatBand10December pic.twitter.com/DFILj6aKt1

— Anil_parsha 🇮🇳 (@AnilParsha) December 4, 2019
Reading this again was shameful & upsetting @ArvindKejriwal #BharatBand10December #JusticeForPriyankaReddy pic.twitter.com/yFvJ4wuLzE

— Dhairya Luthra (@LuthraDhairya) December 3, 2019
If you support too, please Retweet.,#BharatBand10December pic.twitter.com/ydmIJ11b3P

— dharmendra (@01_djbhatt) December 3, 2019
Times Demand Now Self Protection Government And Administration Completely Die #BharatBand10December pic.twitter.com/syU5ek6TyI

— Rohit Single (@SingleRohit) December 3, 2019
Three demands.
1. There should be death punishment for rapists.
2. Trial to be completed within three months.
3. The death penalty should also apply to a minor.
In Support of Women , In Respect of Women , In Justice of Women #BharatBand10December pic.twitter.com/vfjZOYasAi pic.twitter.com/Dh9JC7SDqK

— Mayuri 💕 (@racerme) December 4, 2019